OUR COMMUNITY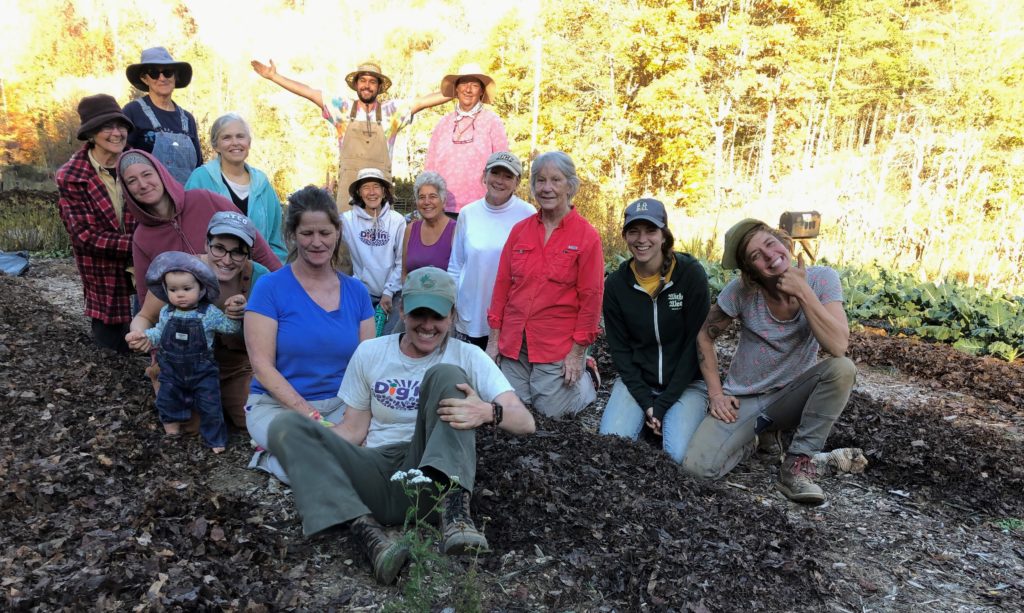 Dig In is the shared work of people who live in and around Yancey County, North Carolina. The valleys, hollers, rivers, and fields here are part of the Black Mountain range of the Appalachian Mountains. Growing food for each other is a long tradition in these mountains. Cherokee people cultivated crops such as candy roaster and corn along the Cane River. White settlers grew vegetables to survive and sell to urban markets. Today, a little more than 18,000 people call Yancey County home. So many of these people are part of Dig In in different ways: cooking a meal with food grown in the garden, volunteering, attending community gatherings, and building partnerships that strengthen our community's fabric.
---
OUR STAFF AND BOARD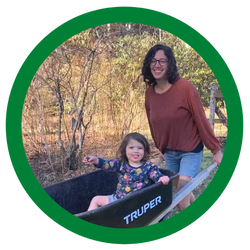 Kavita learned from a young age how growing and cooking food fosters belonging and love. The kitchen and gardens of her grandmother and parents were places filled with warmth, comfort, and joy. She first became passionate about food justice in college, where she worked alongside community organizers in Chester, PA to start a community garden, and then alongside farmers in rural India to generate resource maps for their panchayat governments. After graduating with a B.A. in Chemistry and Economics from Swarthmore College, she spent 11 years growing food in Yancey County at market gardens and as the farm manager at Arthur Morgan School, where she regularly provided produce (especially kale!) for Dig In's Food For All programs. In addition to her work with Dig In, Kavita and her family are caretakers of the Celo Inn in the South Toe River valley.
As a child, Sara delighted in growing green beans with her mother. In 2000, Sara and her family moved to Western North Carolina. She has spent most of her time supporting birthing families and has a tremendous love for watching things grow. With a desire to expand her love, she returned to school and received a bachelors of social work from Mars Hill University. In the fall of 2021, she cultivated a relationship with Dig In as a social work intern and has since transitioned into a member of the staff team. She engages deep values of generosity and abundance with Dig In through the experience of growing and sharing food together.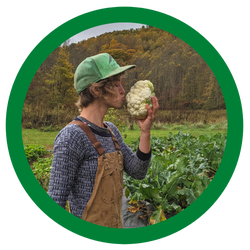 Kathryn (aka Skelley) has worked in horticulture for 18 years with experience in sustainable agriculture, greenhouse production, heavy equipment operation, supervision, and landscape design and installation. She managed her own organic farm in Yancey County for ten years before joining Dig In in 2019. A graduate of Warren Wilson College, Skelley's food growing skills were cultivated as Tractor Boss and Garden Manager at Warren Wilson College, while working at the North Carolina Arboretum, and as a landscaper around Asheville. She is passionate about hands-on learning while providing her neighbors locally grown produce. Skelley has been a leader to many students, interns and volunteers, and even a group of teenagers on a 1,200 mile, self-supported bicycle tour. She loves to grow and eat carrots, as does her farm dog, Mabel.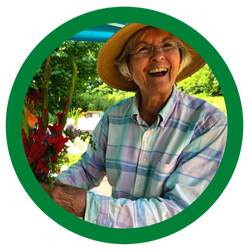 Pat Thibodeaux (she/her)
Flower Gardener
Pat is our dedicated flower gardener at Dig In. She started volunteering in 2012 and commits hundreds of hours in volunteer service creating and caring for flower beds, cutting and arranging hundreds of bouquets for people we serve every season. Hailing from Baton Rouge, Louisiana, Pat came to the mountains to make jewelry. The flower gardens she has created both at Dig In and at private homes are jewels of the mountains. Pat's knowledge of native flowering plants is extensive, and she has an exceptional talent for growing a wide range of cut and ornamental flowers. Under her care, Dig In pollinator habitats are vibrant, adding to the vitality of the earth we steward.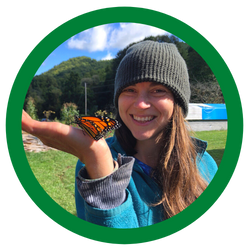 Katie Anne is deeply rooted in the value of Fresh Food for All. She grew up running barefoot on a wide swath of farmland edging the Chester River on Maryland's Eastern Shore. Three generations of her family operated that farm, including her father who transformed it in the late 80s into one of the area's first diversified commercial veggie farms using primarily organic practices. Katie Anne came to the mountains of Western NC in 2003 by way of Warren Wilson College, where she studied English & Theater and served as a Bonner Scholar connecting students and local non profit organizations together in service to community needs. After moving from Asheville to Yancey County, she quickly found her way to Dig In as a volunteer and then proceeded to steep herself in all of the beautiful ways that Dig In cultivates belonging – feeding body, mind, spirit, and community. Her favorite treat from the garden is Sungold cherry tomatoes.
BOARD OF DIRECTORS
Joan Glynn
Board Chair // Director of Development at Penland School of Craft
Kelly Hollis
Board Treasurer // Global Head, Surveys and Observational Studies at RTI International
Jamie McCabe
Board Vice Chair // Bookmobile and Outreach Librarian, AMY Regional Library and Jolly Growin' Garden farmer
Dale Austin
Mountain Top Landscape Services
Katrina George
Mother and Dig In Volunteer
June Honeycutt
Retired Nursery owner
Julie Kirk
ELA Teacher, Cane River Middle School
Julena McQueen
Merchandise Mgr / Buyer, Mountain Air Golf Shop
Paige Scott
Financial Services (Ret.) & Community Volunteer
Christy Shuford
Assistant Branch Manager, United Community Bank
Becky Schmidt
Retired Director of Congressional Affairs, Executive Branch of the Federal Government
---
OUR PARTNERS
Dig In works with organizations, churches, and individuals to create a community food system in Yancey County that ensures fresh, local produce for everyone. We're grateful to work with these partners in this work:
Feed My Sheep Food Ministry
The Yancey Community/Senior Center
Yancey Meals-on-Wheels
Head Start
GEAR-UP
---
OUR HISTORY
Dig In began when two friends – both volunteers serving free meals – looked out over three acres of unused land belonging to one of them and said… "Gee – this field would be a great place for a Community Garden!" They called a community meeting in 2009 to see who might contribute to the idea and forty people showed up.
We broke ground in April 2010, and by June produce from the garden was being served in a local soup kitchen feeding almost 200 people each Monday. Since then, Dig In has grown under the care of volunteers, partners, staff, and a board of directors. In 2017, we moved the garden from its original ½ acre site to a new location we call the Blankenship Creek Garden. We grew from a single garden bed that first season to nearly an acre and half production of vegetables, flowers, and seeds in 2019. We now reach over 500 families making hard choices between healthy food and other necessities through food programs, pantries, educational activities, and Harvest Tables. We teach more than 300 people each season how to grow food sustainably, including local students and seasonal interns. And we create community networks to increase the capacity of our county to work together to provide healthy food with dignity for everyone.