OUR COMMUNITY
Dig In! is the shared work of people who live in and around Yancey County, North Carolina. The valleys, hollers, rivers, and fields here are part of the Black Mountain range of the Appalachian Mountains. Growing food for each other is a long tradition in these mountains. Cherokee people cultivated crops such as candy roaster and corn along the Cane River. White settlers grew vegetables to survive and sell to urban markets. Today, a little more than 18,000 people call Yancey County home. So many of these people are part of Dig In! in different ways: cooking a meal with food grown in the garden, volunteering, attending community gatherings, and building partnerships that strengthen our community's fabric.
---
OUR STAFF AND BOARD
Kathleen's grandmother and mother taught her that food is a currency of power, love, and healing. After graduating from Gonzaga University with a B.A. in Psychology and Political Science with a certificate in Leadership Studies, she's followed a path to different places and parts of the food system. She was selected as a Bill Emerson Hunger Fellow with the Congressional Hunger System, worked on the 2008 Farm Bill as a political advocate, learned community organizing on a campaign directed by the Coalition of Immokalee Workers, labored on vegetable and seed farms in Colorado and Oregon, worked in Honduras with small farmers growing beans and corn for a national seed breeding project on a Fulbright Scholarship, and earned an M.S. in Rural Sociology and Natural Resource Management from Pennsylvania State University while working for the PA Women's Agricultural Network. Kathleen served as both Dig In!'s Garden Manager and Executive Director for five seasons before becoming full-time Director in 2019.
Kathryn has worked in the horticulture field for fifteen years, with experience in supervising, design, installation and pest and disease management. She managed her own organic farm in Yancey County for ten years before joining Dig In! in 2019. A graduate of Warren Wilson College, Kathryn's food growing skills were cultivated while working as a Tractor Boss and Garden Manager at Warren Wilson College, and as a landscaper at Givens Estate in Asheville. As a youth program facilitator, she led a group of teenagers on a 1,200 mile, self-supported bicycle trip from New Hampshire to Michigan–that's not made up, it actually happened! Kathryn loves to plant and eat carrots, as does her farm dog, Mabel.
Pat Thibodeaux
Flower Gardener
Pat is our dedicated flower gardener at Dig In!. She started volunteering in 2012 and commits hundreds of hours in volunteer service creating and caring for flower beds, cutting and arranging hundreds of bouquets for people we serve every season. Hailing from Baton Rouge, Louisiana, Pat came to the mountains to make jewelry. The flower gardens she has created both at Dig In! and at private homes are jewels of the mountains. Pat's knowledge of native flowering plants is extensive, and she has an exceptional talent for growing a wide range of cut and ornamental flowers. Under her care, Dig In! pollinator habitats are vibrant, adding to the vitality of the earth we steward.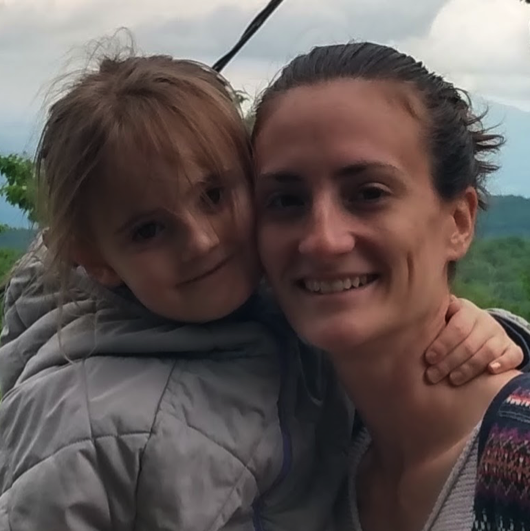 Brittany Cox (She/Her)
Food For All Coordinator
Brittany comes to us from Charlotte, NC where her grandfather showed her a passion for farming, sharing food, and living simply. She received her B.A. in History from UNC Charlotte, with two minors: International Studies and German. Brittany became enchanted by the Botanical garden on campus, where she continues her education in Native Plant Studies. She worked in community and individual gardens to help feed neighbors through non-profits. She also worked with a CSA, where she was responsible for different neighborhoods in and around Charlotte. She shared produce through the CSA, gardens, and her own backyard to anyone she could. She and her partner grew in their backyard a variety of vegetables, fruits, flowers, and herbs creating a beautiful ecosystem that helped fuel their inspiration to one day start a family farm and share what they can with their community. Connection to nature and neighbors is their longing and Dig In! has become a great partner along the way.
Fel Marquez (They/Them)
Farm Apprentice
I have spent my last four years working for family farms, community gardens/urban farms, teaching primitive wilderness skills, and allowing myself to connect back to dirt. Making food equitable and accessible, making the outdoors approachable, are two incredibly important beliefs and lifestyles for me. Growing up in the San Francisco Bay Area, California, my happiest memories are not of walking the crowded streets or having access to a multitude of donut shops. It was simply going to the Redwood Forest in Oakland with my siblings and cousins, the last of the Redwoods in the Bay Area. I would spend all day running around the forest, knowing nothing about the science of it all. Just knowing that we had a symbiotic relationship. Nature provided me with nurture. And I in return, had the opportunity to either cause nature pain or give nature love. And in a world full of hate, I chose and choose to give love. I am excited to be working with Dig In! because what I see from this organization is they choose to give love back to the environment and their community, and that is so powerful. Looking forward to connecting with all the wonderful and interesting folks of Yancey County, and if you see me don't be shy, say hi!
BOARD OF DIRECTORS
Joan Glynn
Board Chair // Director of Development at Penland School of Craft
Katrina George
Mother and Dig In! Volunteer
June Honeycutt
Retired nursery owner
Kelly Hollis
Board Treasurer // Global Head, Surveys and Observational Studies at RTI International
Jamie McCabe
Bookmobile and Outreach Librarian, AMY Regional Library and farmer at Jolly Growin' Garden
Becky Schmidt
Retired Director of Congressional Affairs, Executive Branch of the Federal Government
Julie Kirk
Middle School Science Teacher, Cane River Middle School
---
OUR PARTNERS
Dig In! works with organizations, churches, and individuals to create a community food system in Yancey County that ensures fresh, local produce for everyone. We're grateful to work with these partners in this work:
Feed My Sheep Food Ministry
The Yancey Community/Senior Center
Yancey Meals-on-Wheels
Head Start
GEAR-UP
---
OUR HISTORY
Dig In! began when two friends – both volunteers serving free meals – looked out over three acres of unused land belonging to one of them and said… "Gee – this field would be a great place for a Community Garden!" They called a community meeting in 2009 to see who might contribute to the idea and forty people showed up.
We broke ground in April 2010, and by June produce from the garden was being served in a local soup kitchen feeding almost 200 people each Monday. Since then, Dig In! has grown under the care of volunteers, partners, staff, and a board of directors. In 2017, we moved the garden from its original ½ acre site to a new location we call the Blankenship Creek Garden. We grew from a single garden bed that first season to nearly an acre and half production of vegetables, flowers, and seeds in 2019. We now reach over 500 families making hard choices between healthy food and other necessities through food programs, pantries, educational activities, and Harvest Tables. We teach more than 300 people each season how to grow food sustainably, including local students and seasonal interns. And we create community networks to increase the capacity of our county to work together to provide healthy food with dignity for everyone.