By growing and sharing food together, we ensure that our neighbors have access to fresh produce that is reliable and of the highest quality while building resources for our community to be food secure for years to come.
Grow a Garden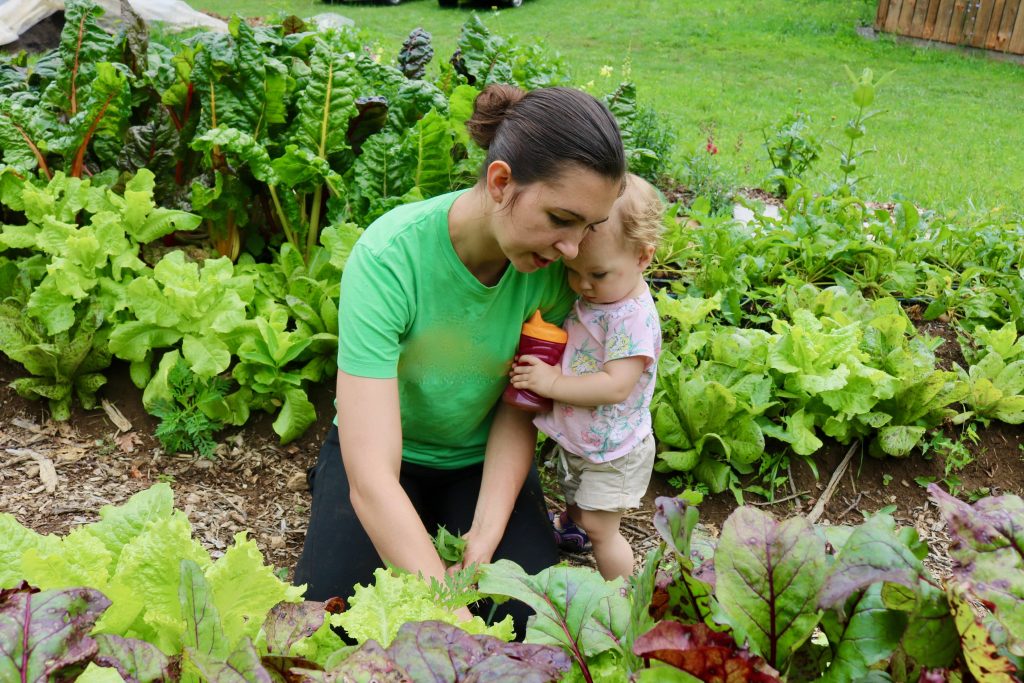 Dig In Is a Garden that Gives – we grow food in our gardens and farms to share with anyone in the community who needs fresh produce.
Blankenship
Our primary garden is located on Blankenship Creek Road in West Yancey. There, our Farm Team and volunteers cultivate two acres of organic vegetables, flowers, and herbs together. We grow crops that are nutrient rich, culturally appropriate for a variety of people in our community, and regionally adapted to our mountain climate. We use sustainable and regenerative agricultural techniques so that generations to come have the natural resources to grow food in the places we steward.
Community of Gardens
Our Community of Gardens Initiative broadens the work of Dig In to build a network to support collaborative food efforts throughout our county.
At the center of this network are our sister community gardens. In addition to growing food together at the Blankenship farm, we envision a food system where our people have the opportunity to grow food together directly where they live, work, study, worship or play. We support established community gardens like Seeds of Hope (First Baptist Church) and Celo Community gardens to maximize their potential by sharing our network of amazing volunteers, extra seeds and starts, and our gardening expertise. We also offer guidance and resources for starting new community gardens, from site analysis, to design, crop rotations, and volunteer structure. Our most recent project is a garden installation at the Yancey House assisted living community in Burnsville.
We have a small but growing tool library of resources for growing, harvesting and processing food that is available to members of our Community of Gardens.
For more information about joining our Community of Gardens, reach out to us at farmer@diginyancey.org.
---
Share Food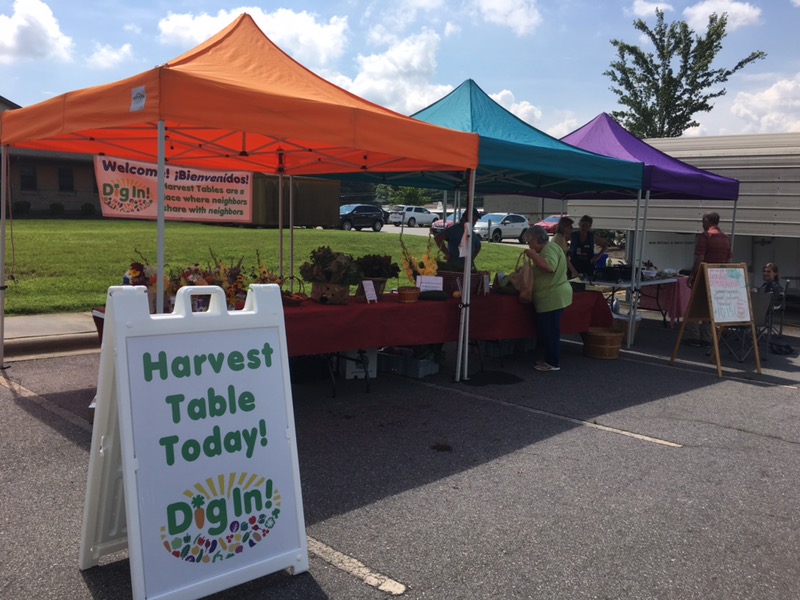 Dig In shares food with our community through multiple collaborative food sharing programs so that there is fresh, local food for all in Yancey County. In doing so, we believe that everyone has the right to choose food they like to eat and cook that's of the highest quality.
Harvest Share
We host weekly no cost markets to share the best of what we grow to ensure that there is fresh food for all. Harvest Share is modeled on the long tradition of Yancey County neighbors sharing what they have to ensure that everyone has enough. In partnership with TRACTOR Food and Farms and Reconciliation House, we offer produce and eggs sourced from our gardens, home gardens throughout the county, and over 30 local farms free of charge. We also exchange cooking tips, recipes, and ways to care for ourselves and each other.
In 2023, Harvest Share is every Wednesday 10 am – noon beginning May 31 at the West Burnsville Baptist Church located at 222 West Burnsville Church Rd.
The markets are walk-up and we encourage folks to bring their own bags to reduce waste, although we will have bags available for us. We also encourage folks to continue the community care by considering who else might benefit from our produce and bringing home bags for multiple households. Everyone is welcome!
Cosecha Para El Pueblo
Esto es nuestro reparto de alimentos especialmente para la comunidad hispanohablante. Las verduras frescas vienen de granjas en la comunidad, incluyendo la de Dig In. Las fechas, la hora y el lugar están por determinar. ¡Todos son bienvenidos!
This is our food sharing program specifically for our Spanish speaking neighbors. Like all our food sharing programs, the vegetables are grown locally, including from Dig In's gardens. The dates, times, and locations are still to be determined for this year.
Community food programs
Dig In! works in collaboration with Yancey organizations to administer two community food programs. We grow produce and help fundraise for these programs that serve over 240 households more than 15 times during the growing season.
This collaborative effort provides food staples, locally-grown fresh produce, cookbooks, children's books, and listings of community resources to families whose children receive food assistance through school but do not have access to healthy and affordable food resources during the summer months. Participating families are referred by the schools. Food and resources are packed and delivered to the doorsteps of families families by generous volunteers.
Garden Share for elder households who receive Meals-on-Wheels
This collaborative effort delivers bags of fresh and easy to prepare produce to elders through the Yancey Senior Center and Meals-On-Wheels. Please contact the Yancey Senior Center to enroll.
Emergency food partners
Dig In! shares produce with people receiving emergency food at the following pantries in Yancey County:
Reconciliation House
Feed My Sheep
Full Gospel Pantry
---
Learn Together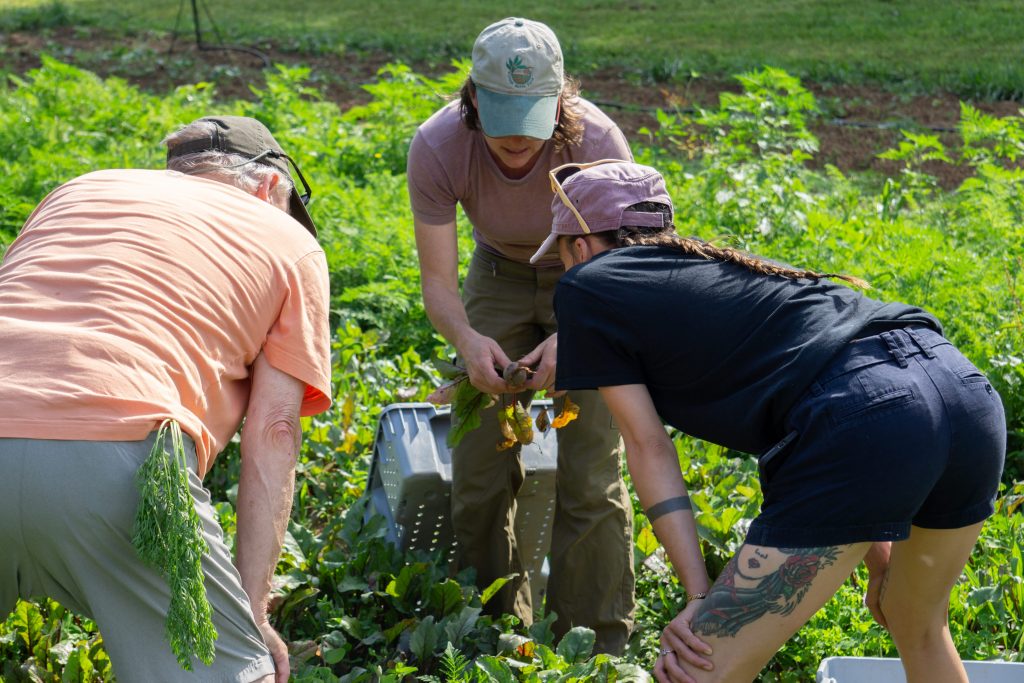 We believe in the power of people to grow an abundant and just future together. Our educational programming is built on the practices of hands-on, place-based learning. We believe that everyone has something to teach, and everyone has something to learn.
Dig In!'s Learn + Teach programs include:
Work Together Days are hands-on learning opportunities when volunteers are mentored by Dig In staff and other volunteers.
We offer workshops around the skills of growing, harvesting, and preparing/preserving fresh vegetables. See our events page for up-to date information about our current workshop offerings.
Dig In trains young people to grow food and create community food systems through seasonal internships and full season apprenticeships. The apprenticeship is a registered with ApprenticeshipNC through the NC Community Colleges and offered in collaboration with the Center for Environmental Farming Systems.
Dig In offers small scholarships to financially limited individuals and members of our Community of Gardens to attend trainings that enhance food growing, stewardship, and community food security in Yancey County.