Volunteer Spotlight
Here at Dig In!, we're so grateful for our amazing and dedicated volunteers. Whether mulching, planting, weeding, harvesting, packing or sharing locally grown vegetables, volunteers are an integral part of who we are and what we do.
So we're delighted to introduce one of our most enthusiastic Harvest Share volunteers: Basil Maas. Almost every week, he helps us share food with over 300 families by pre-packing bags on Wednesdays. He then helps with directing traffic and calling out each car's requests on Thursdays. But most importantly, he keeps it fun for everyone with his cheery good humor!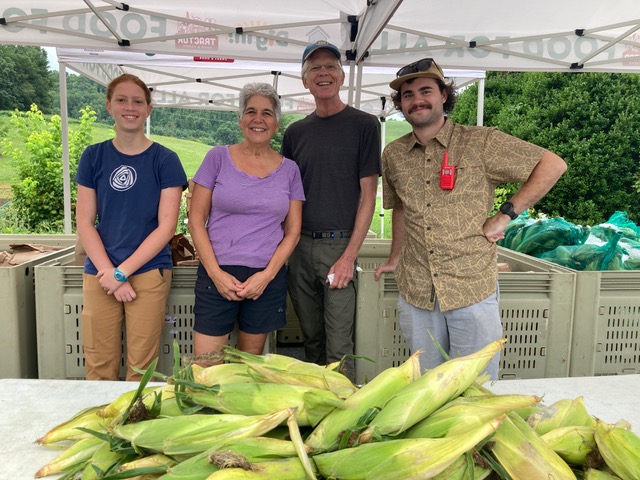 Starting this week, Basil is taking a break from volunteering with us to walk El Camino de Santiago with his daughter, Mackenzie. They will be trekking 500 miles through Spain along one of the world's most famous pilgrimage routes.
Basil is inviting friends and supporters of Dig In!, TRACTOR, and Reconciliation House to join in on his journey by supporting our cooperative Food for All programs while he is on the trail. Here is what Basil has to say.
A Note From Basil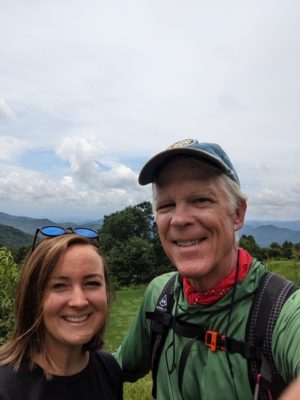 In 2020, my wife Jackie and I moved to Yancey County. We were immediately struck by the strong community ties here, including the many who volunteer time and talents to help their neighbors. Yet we also learned that almost 20% of county residents experience food insecurity. We quickly felt drawn to the Food For All programs because of the way they connect a commitment to care with Yancey County's strong tradition as a farming hub.
So in the spirit of a good old fashioned walk-a-thon, Mackenzie and I are embarking on this journey to raise awareness about and motivate others to support the Food for All food sharing programs in Yancey County. It's hard to put a dollar amount on the value of these programs to the community. But every $100 we raise equals 6 weeks of fresh, locally-grown produce that's packed and shared with care for a neighboring family. Will you join us to ensure more Yancey County families don't have to make the choice between having nutritious food or other basic needs?
How To Donate
To support Basil, please follow these easy steps to donate.
Click the 'Donate' button on Dig In!'s menu bar.
Select your donation amount and enter the donation as "unrestricted."
Fill out your information and enter "In Honor of Basil Maas."
We look forward to sharing pictures and milestones of Basil and Mackenzie's travel and fundraising journey. Buen Camino!